We Help


Businesses
Thrive With Our
All-In-One Sales & Marketing Platform
Building the all in one business engine
The all-in-one platform with all the tools you may need, without having to "connect" multiple platforms together!
CAPTURE
We are capturing your "most likely to convert" leads using our funnel pages, forms, surveys, calendars, inbound phone directory system & much more!
NURTURE
Automation makes life easy for business owners. Now you can schedule calls and voicemails. SMS, email, FB massager, and more with our automation tool.
CLOSE
We have built-in tools to collect payments, schedule appointments, and track analytics on our horizon!
Profit Notion is a power packed platform for all types of businesses. Included
in the platform is a full-featured funnel builder to capture the most prominent leads.
CREATE A WHOLESOME OF WEBSITES, FUNNELS & LANDING PAGES
Our built-in Platform allows you to create full-fledged websites with custom designs and options to create what your business needs. With its best drag-and-drop builder, you can build a website with no coding skills required. Create high-performing and captivating landing pages all in one place!
DRAG & DROP SURVEYS AND FORMS
Build robust forms and surveys using our platform with the use of drag-and-drop Builder.
ONLINE APPOINTMENT SCHEDULING
The primary step for many businesses is to capture appointments or leads. With Profit Notion, customers can easily request or book an appointment, and the calender syncs with Google/Outlook for business.
Know what's in the bowl for you and your business. 
Get all the training and resources you need to start or grow.
MANAGE YOUR STREAMLINED WORKFLOW
Track your leads and what stage they are in the sales funnel with our in-built pipeline management feature.
COLLECT CUSTOMER PAYMENTS
We integrate directly with Stripe/Paypal so you can collect payments on websites, funnels, and even when someone books an appointment.
ANALYTICS & REPORTS – IN ONE PLACE
We have designed a dashboard that keeps track of your leads, user engagement, appointment report, call reports, FB ads, google ads reports, and money generated in each phase.
Use our fully automated calendar for booking leads and prospects.
AUTOMATED NURTURE CONVERSATIONS
Create text conversations to place booked appointments on calendars WITHOUT any human interaction.
FULL CUSTOMIZATION OF MESSAGING
Send a complete custom-made message trial for all your clients with our campaign builder.
ARTIFICIAL INTELLIGENCE BUILT-IN
Profit Notion allows you to manage the conversation with the leverage of AI (Artificial Intelligence) and Machine Learning. 
Use our membership platform to create a thriving community for your business.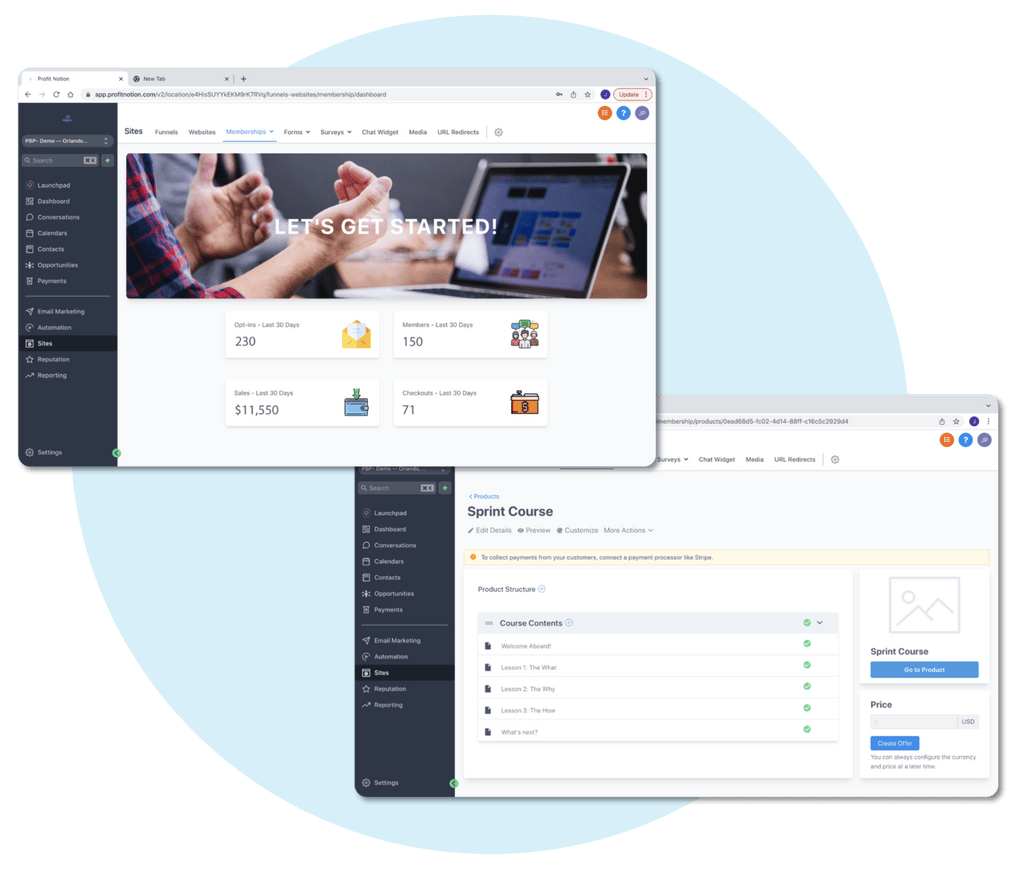 FULL-FEATURED COURSE MANAGEMENT
Build full courses with unlimited video hosting and unlimited users.
OFFER FREE AND PAID COURSES
With our entire platform, you can sell courses or offer courses for free.
Profit Notion offers unlimited users, offers, and products for your courses. You can create classes for your clients or your agency!
Join thousands of other marketers to learn how they're being successful and growing
their agency with HighLevel…and how you can do the same too.
ALL THE TOOLS YOU NEED IN ONE PLATFORM
The HighLevel Platform is everything that agencies need to manage their client's leads, websites, funnels, calendars and many other services that are needed to maintain a customer.
YOUR OWN WHITE LABELING PLATFORM
Out of the box, the platform allows you to White Label the Desktop Application. Your clients will see your brand, down to the URL.
WHITE LABEL AGENCY FULFILLMENT SERVICES
HighLevel offers White Label Agency services such as Facebook Advertising, Google Advertising, and Social Media Posting.
Your Own White Label Platform
Our Agencies love providing more value to their clients. You have the ability with
HighLevel to create a custom app in the App Stores*.
SELL IT TO YOUR AGENCY CUSTOMERS
Offer access to the app for an additional fee or include it with your services!
SELL IT AT YOUR OWN PRICE
Since we offer unlimited accounts and users, sell it at any price that makes sense for you.
ADDITIONAL REVENUE SOURCE
The CRM and mobile app allows you to charge more than you previously were by offering a platform access fee to your clients.
Reduce your operating cost and
increase Efficiency